Disable unused extensions and Design Elements that come with Pearl Theme to improve speed and strip down the theme code to only load the functionality you need for your project.
Associated Pearl Theme extensions highly increase the theme functionality and are located under the folder structure below.
You can choose the extensions you need, and deactivate the ones you don't need - this way you code will be light, fast and more conflict free.
app/code/WeltPixel/NavigationLinks (MegaMenu)
app/code/WeltPixel/OwlCarouselSlider
app/code/WeltPixel/Quickview
app/code/WeltPixel/GoogleCards
app/code/WeltPixel/TitleRewrite
app/code/WeltPixel/SmartProductTabs
app/code/WeltPixel/MobileDetect
app/code/WeltPixel/InstagramWidget
app/code/WeltPixel/FullPageScroll
app/code/WeltPixel/GoogleTagManager
app/code/WeltPixel/Sitemap
app/code/WeltPixel/QuickCart
app/code/WeltPixel/ReviewsWidget
app/code/WeltPixel/Multistore
app/code/WeltPixel/ThankYouPage
app/code/WeltPixel/AjaxInfiniteScroll
app/code/WeltPixel/SearchAutoComplete
app/code/WeltPixel/LazyLoading
app/code/WeltPixel/LayeredNavigation
app/code/WeltPixel/EnhancedEmail (Pearl Theme Professional Pack only)
app/code/WeltPixel/CmsBlockScheduler (Pearl Theme Professional Pack only)
MODULARITY ADVANTAGES.
Fast and light code - unnecessary sections or extensions from the Pearl Theme theme can be disabled.
Easy debugging - each section of the theme can be disabled in order to identify a potential issue.
Easily replace sections of the theme with other 3rd party functionalites, easy integration without any coding needed. (Example: you can disable WeltPixel MegaMenu and use a 3rd party MegaMenu extension that you prefer)
Disable any WeltPixel extension by using the following commands in the root of your Magento installation:
php bin/magento module:disable WeltPixel_[extension_name] --clear-static-content 
php bin/magento setup:upgrade
Example:
php bin/magento module:disable WeltPixel_Quickview --clear-static-content 
php bin/magento setup:upgrade
FOR EVEN MORE SPEED: MODULAR DESIGN ELEMENTS.
Disable any Design Elements that you don't use from Magento Admin options and the corresponding code or library will not be loaded.
Not only are the theme and extensions, highly modular but all the design elements included in the theme are as well.
Yes / No admin options for disabling elements not used.
Enable/ Disable: Bootstrap Grid, Icons, Tables, Toggle, Accordion, Tabs, Pricing Boxes, Headings and Blockquotes, Dividers, Brand lists, Responsive and Helpers, Smooth Scrolling, Icon Boxes, Alert Boxes, Testomonials, Flex Slider, Buttons, Sections/Parallax, Back to top Button, etc..
Disable design elements that are not used by using Theme settings from Admin.
Go to Admin > Store > Configuration > WeltPixel > Design Elements 
Note: If you notice broken store functionality after disabling any of the above Design Elements, it means that you disabled a functionality that you still use in your store. Make sure to identify it and enable it again.  
Example 1: If you disable Animations from design elements, the animations library and corresponding CSS will not be loaded anymore. If you try to use this functionality it will most likely not work until you enable it from Design Elements. 
Example 2: If you disable Icons from design elements, the icons will not be loaded with the theme anymore. If you try to use icons they will not show up until this option is enabled again.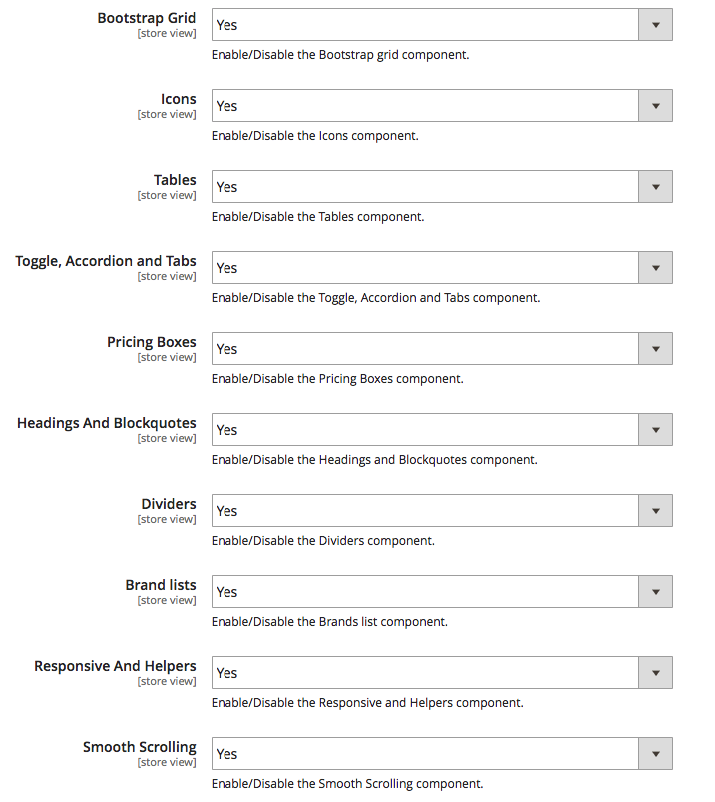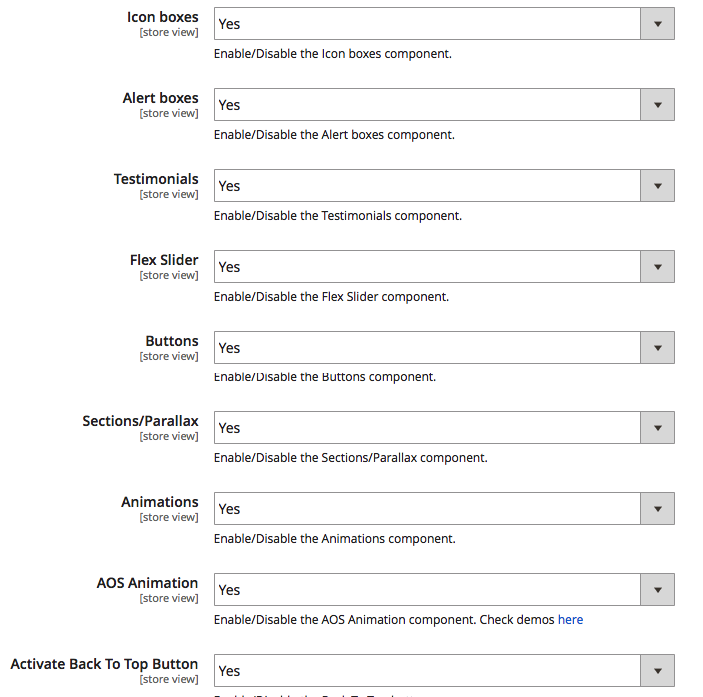 See also: How to speed up your Magento 2 store and increase performance?